Bet365 bonus code for September 2017
£200 Deposit Bonus For New Customers
Why do we give the Bet365 bonus code such a high rating? Other online gambling sites may offer gaudier numbers, but the thing that really garners the high grade for Bet365 bonus codes is the site's unwavering reliability and credibility.
While other online shops are dropping by the day, Bet365 continues to handle hundreds of millions of wagers monthly without incident. And they manage to do it while handling more wagers than the competition.
Constant improvements to the software also contribute to the rating for the Bet365 bonus code – after all, getting a massive bonus at a site isn't worth much if you can't stand or don't trust the site.
Continuing reading for a complete breakdown of the welcome bonuses available at Bet365 Poker, Bet365 Sports, and Bet365 Casino.
What is the Bet365 bonus code 2017?
| Bonus Type | Bonus Description |
| --- | --- |
| Bet365 Bonus Code 2017 | Reveal Code |
| Poker bonus | €5 with no deposit and 100% up to €100 |
| Casino bonus | £/€100 across all games or £/€200 for slots |
| Sports bonus | 100% up to £/€200 bonus |
Available fixtures at Bet365 Sports
You can use funds in your Bet365 Sports account to wager on upcoming sporting events such as these and tons more:
Bet365's September 2017 opening bonuses – overall rating: 4.5/5
Bet365 Bonus Code Review
Licensing & Regulation

Safety Of Player Funds

Value Of Opening Bonuses

Clarity of Promotional Terms and Conditions

Variety of Games

Additional Features

Customer Service

Overall Payback Rates
Bet365 Bonus: Quick Take
Good overall value with potential north of $1000, but about half of the bonus is casino-centered, meaning many members will realize a far lower overall value.
The poker bonus at bet365 is reasonable in terms of size, but clearance rates are a bit below industry average. The bet365 casino bonus is great for regular players, with terms that are fair, but nevertheless require player review. The bonus at bet365's other casino-driven product - bet365 Vegas - is arguably superior at this point.
The bet365 sports bonus is a bit above average for a major book, and basically mandatory for anyone betting sports online thanks to Bet365's innovative In-Play markets.
Use the links below (or simply scroll down) for more in-depth analysis of the various welcome bonuses at Bet365.
Bet365 Poker bonus code opening bonus rating: 3.5/5
No deposit bonus at Bet365 Poker
UK Players – Get €5 with no deposit at Bet365 Poker (new accounts only)
New players who have yet to create an account at Bet365 Poker will qualify to receive a no deposit bonus of €5 in the form of a cash game ticket- simply join the site, establish a new nickname, and within 2 days your account will be credited with the free poker bankroll cash game ticket by bet365.
It is that easy.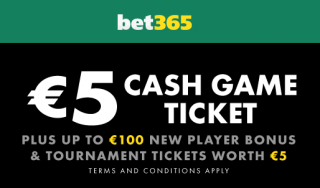 If you do decide to make a deposit into your new Bet365 Poker account, read on to learn about the Bet365 Poker deposit bonus offer.
Deposit bonus at Bet365 Poker
For everyone who is from the UK, here are the details on the welcome bonus for poker players at Bet365 Poker. First-time depositors have the chance to earn solid value with a 100% up to €100 bonus plus you'll receive a €5 cash game ticket when you make a minimum deposit of €10.
Advantages of the bonus at Bet365 (beyond the Varies bonus rate) include a reasonable time period to clear the bonus (60 days) and small incremental release amounts (see below). The overall amount also compares favorably with other bonus offers.
The bonus clears as you earn Status Points by playing real money games at Bet365 Poker. The increments will be released as follows (if you deposit €100):
5 x €1 installments, after you earn your 10 Status Points for each installment.
The remained of your bonus is paid in €2.50 installments, after every 150 Status Points
The downside: The clearance rate is a bit low at roughly 17%.
At Bet365 – as with all iPoker rooms – you're earning Status points that you can trade in for cash or tournament tickets as you clear your bonus. That means you're stacking Loyalty Club Rewards on top of your deposit bonus.
If you clear the entire bonus, you'll be on your way to earning about 50% rakeback while doing so. You will also have played your way onto a higher level of the new Loyalty Club. You can read more about the value of the Bet365 Loyalty Club in our review of Bet365 further down the page.
You don't need a specific Bet365 bonus code /offer code to claim the Bet365 Poker deposit offer; it will be automatically applied on your first deposit or transfer into your Bet365 Poker account. The Bet365 bonus / referrer code only needs to be used when you create your Bet365 account.
Click to visit Bet365  to create your poker account. Reveal Bonus Code: ********
Bet365 bonus code for casino. Welcome bonus rating – 4.5/5
Bet365 have recently made adjustments to the Bet365 Casino bonus, removing the different types of bonuses that were available and instead offering a single standard bonus for all players, more in keeping with the bonuses available on other Bet365 sites.
The Bet365 welcome bonus offer is now far simpler to understand and means players will get the same deal when they sign up.
It is worth remembering that if you have activated a bonus on another Bet365 site, then you need to wait for that to run its course before you can activate another. It is also worth noting that the bonus code for this offer has been updated as detailed above.
Bet365 uses offer codes to activate its offers, so if you lose a code or are unsure about any aspect of the offer, do give customer services a call and they'll be happy to help you out so you can claim your bonus easily and most cost-effectively.
Let's take a closer look at the new Bet365 Casino bonus available for all new players.
Opening bonuses at Bet365 Casino for UK Players
UK Standard Opening Offer
To activate your Bet365 Casino 100% starter bonus, UK players will need to deposit between £10 minimum and £100 maximum.
Whatever you deposit, you will receive 100% in bonus cash paid into your bonus cash account, provided that you enter the offer code BONUS100 when you deposit or transfer cash into your account.
You enter this code after you have created an account.
In order to lift withdrawal requirements on your bonus money, you need to play through your first deposit, plus your bonus a total of 20 times within 30 days of receiving the cash..
If you do not wish to receive this bonus, then you can select No Bonus from the offer code menu and there will then be no withdrawal requirement applied to your account.
Bet365 have now removed the formerly available VIP and Slots Bonuses that were once available at Bet365 Casino, so that this introductory offer now falls in line with the similar offers available at its sister sites Bet365 Vegas and Bet365 Games.
Bet 365 Sports opening bonus rating – 5/5
If you enjoy sports betting then bet365 Sport are offering an excellent welcome bonus for new customers at the moment. The bonus offers a 100% matched bonus that could potentially be worth up to $100.
The bonus can be triggered with a deposit as small as $10.
To receive this offer, you require an offer code from Bet365.
Usually, this is emailed to you when you join the site and deposit, however if you have problems receiving the email, you can contact customer support and request a replacement code.
Your 10 digit code will end NCDB2.
Once you have received this code, enter it into the Offer Codes section of your account to trigger the bonus.
To use your bonus cash, you must play through the full amount of your deposit once on the site. You can then bet with your Bet365 Sports bonus cash. However to lift withdrawal requirements, you need to play through your bonus and deposit three times.
You have 90 days within which to meet the withdrawal requirements from the date you first made your deposit into your account.
Bet365 Vegas welcome bonus rating – 4/5
Bet365 has rolled out a new casino site called Bet365 Vegas that features an array of new games from Net Entertainment, a fact that is sure to come as good news to fans of the existing Bet365 Casino and especially of slot games.
The Bet365 Vegas welcome offer requires a deposit of £10 – but the good news is that Bet365 will give new players a 100% bonus up to £100. Players will have 30 days to claim the bonus and must play real money games in order to realise the offer.
Bet365 slot spotlight
Bet365 has lots to offer to the online slot fan with a wide variety of slots games on its Bet365 Games, Bet365 Vegas, and Bet365 Casino platforms. Take a look at some of our favorite slots at Bet365:
Bet365: offer codes vs bonus codes
One last note to clear up a common confusion for new Bet365 customers: The bet365 bonus code is totally different from Bet365 offer codes.
You only need to use the Bet365 bonus code once at sign up. After that, Bet365 will send you different offer codes for the different bonuses available at Bet365.
If you don't know what the offer code is for a particular bonus, you can always request one from within your Bet365 account or simply open a live chat with Bet365 support.
So, in short: the Bet365 bonus / referrer code is used once at sign up, and then individual Bet365 offer codes are used to claim deposit bonuses for each product. On to more details about what opening bonuses you can claim at Bet365.
How do I get Bet365 offer codes?
We get this question pretty frequently. You can't get most of the Bet365 welcome bonuses without an offer code – but how do you get an offer code? It's actually quite easy – Bet365 usually emails them to you. But what if you didn't get the offer code they sent you, or if you deleted it by accident?
No problem. You should be able to request that Bet365 resend offer codes simply by logging into your account and navigating to "offers" (see image to your right).
And if for some reason that aspect of your account isn't available, all you need to do is contact support – just title your email "Bet365 offer code 2017" or something similar.
Bet365 Poker Room: Review
With talk of bonus code Bet365 ratings out of the way, let's move on to discussing the different aspects of the Bet365 Poker room with our review below. When you're ready to sign up, use the Bet365 Bonus Code here:
Reveal Bonus Code:
********
in the Bet365 bonus/referrer code field.
Bet365 Poker: Overview
Bet365 Poker resides on the iPoker network. What sets Bet365 apart from other skins of the iPoker network? The variety of offerings. Poker players at Bet365 also have instant access to the site's full range of wagering options, including innovative options such as in-game wagering, skill games and financial market speculation along with standards such as sports betting and casino games.
As part of the iPoker network, Bet365 Poker boasts one of the busiest lobbies in all of online poker – behind only PokerStars.com and 888.
Bet365 is regulated by the UK Gambling Commission and the government of Gibraltar. Bet365 is also a member of the Independent Betting Adjudication Service, an independent arbitrator that handles player issues.
Bet365 Poker: Software features
Bet365 offers the convenient "One Wallet" system for using the entire line of Bet365 features – poker, casino, sports betting, and games/bingo, with the same user name and password for all sections of the site. This wallet is also where you'll be able to recover and use Bet365 offer codes to claim bonuses. Despite the name, the Bet365 bonus code is only used when you sign up at Bet365.
A quick search feature that auto-filters out all the game types you're looking for into the main lobby without having to hunt through tabs and denominations when you're in a rush for a game.
The ability to multi-table up to 16 active tables at a time (meaning you can clear your Bet365 Poker bonus faster) and the use of a mini-view feature to make it even easier to manage all your tables, plus an active table alert system to keep you from missing any hands while you're frantically pushing the action.
Bet365 Poker: Fast-fold option
In mid 2013, Bet365 was the first room on the iPoker Network to launch "Sprint Poker," a fast-fold variant similar to Rush Poker and Zoom Poker. Sprint Poker is now available at a variety of limits for both no limit holdem and pot limit omaha, and is quickly becoming the most popular way to play poker at Bet365.
Sign up using Bet365 Bonus Code (Reveal Bonus Code: ********) as the referrer code Bet365 requests and you can be playing Sprint Poker within minutes. If you've never played, you're probably going to really like it – the pace of play is much quicker than regular poker, and you never have to worry about downtime between hands.
With Sprint Poker, you can move immediately to a new hand after you fold your current hand (if you want to stick around and see how the hand plays out, you can still choose that option). Sprint makes it easier to fold bad hands, play better poker and also gives you the chance to rack up serious VIP rewards (and earn bonuses faster) thanks to the increased pace of play.
Bet365 Poker: Loyalty Club
In August 2017, Bet365 Poker replaced its VIP Rewards system with a brand new alternative, the Bet365 Loyalty Club. While it operates in a similar way to the original scheme, earn points through playing real cash poker to move through the levels, the structure of the Loyalty Club and the different rewards on offer are paid out in a more flexible and appealing way.
All current Bet365 Poker customers are automatically enrolled in Loyalty Club and every new customer that signs up is also enrolled in the club when they start. The aim of all Loyalty Club members is to earn themselves a chance to select from a number of rewards in the Bet365 Store at the end of every qualifying period (which is always a calendar month).
To achieve this a player has to earn Status Points. These are the fundamental currency for the Loyalty Club and you earn these Status Points by playing any form of real cash poker on the Bet365 site.
The amount of Status Points you earn is dependent on how much you pay either in Rake (in the case of cash table games) or in Tournament Fees (for Sit & Go or Tournament games). Status Points are earned at the rate of 10 for every £1 or €1 that you contribute in either Rake or Tournament fees.
It is by collecting enough Status Points in each qualifying period that you will start to work your way through the different Levels in the Bet365 Loyalty Club.
How do the new Bet365 Loyalty Club Levels work?
There are five different Loyalty Levels in the Bet365 Club, which is one more than was in the old VIP Rewards system. Here's a table of the benefits at each level, and we'll get into what each item means in a bit more detail after.
Bet365 Loyalty Club Details
Bronze
Silver
Gold
Platinum
Diamond
Points Required (month)
N/A
30
200
800
15,000/quarter
Rake Required
N/A
€3
€20
€80
€1500
Loyalty Club Tournaments
100
€100, €500
€100, €500, €5,000
€100, €500, €5,000
€100, €500, €5,000
Loyalty Missions
Yes
Yes
Yes
Yes
Yes
Premium Step Tickets
Yes
Yes
Yes
Yes
Yes
Sit & Go Tickets
Yes
Yes
Yes
Yes
Yes
Scheduled Tournament Tickets
Yes
Yes
Yes
Yes
Yes
Bonuses
Yes
Yes
Yes
Yes
Yes
Twister Tickets
Yes
Yes
Yes
Yes
Cash Tickets
Yes
Yes
Yes
Real Cash Rewards
Yes
Yes
"Headline" Promotions
Yes
Yes
Yes
Yes
Yes
"Enhanced" Promotions
Yes
Yes
Instant 2,500 Bet365 Coin Reward
Yes
3 Month Level Guarantee
Yes
Each level is subdivided into smaller Level Steps, which a player will progress through on each level as they accrue the required number of Status Points. These Level Steps are important because when you complete one, you will receive a bonus in the form of Bet365 Coins.
Bet365 Loyalty Steps
Level
Steps
Status Points Needed Per Step
Bet365 Coins Earned
Bronze
15
2
1
Silver
25
6-10
3-11
Gold
20
40
27-38
Platinum
85
160-200
120-235
Diamond
N/A
The Bet365 Coins you earn by completing Level Steps are added to your account and at the end of the qualifying period, all the coins you earn can then be spent in the Bet365 Store on a variety of items as reward for your loyalty to the site. The higher you climb through the Loyalty Levels, the greater the value of the Bet365 Coin rewards you will receive for each of the Level Steps.
If you manage to make it all the way through to the Diamond Level then you will automatically receive a 2,500 Bet365 Coin bonus for making it to this level on top of any coins you have already earned from your play on the site in that qualifying period.
Additional Ways to earn Bet365 Coins
What makes the Bet365 Loyalty Club more appealing than its predecessor is that there are a number of other ways you can earn additional Bet365 Coins and Status Points to help boost your balance in a typical qualifying period.
Loyalty Tournaments – Every day there is a €100 Bronze Loyalty Club Tournament contested on the Bet365 Poker site which all players can compete in. If you reach the Silver Level you can try your luck in the €500 Silver Loyalty Club Tournament while each month if you reach Gold Level or above you can enter the €5000 Mega Loyalty Club Tournament, which starts at 8pm GMT on the final Saturday in each month.
Loyalty Missions – Bet365 are continuing their Missions-based promotions and offering players the chance to complete Loyalty Missions to earn themselves additional Status Points and Bet365 Coins. Click the Start button for your first mission and when you complete that mission, you will earn a reward and the next mission in the series will be ready for you to complete, together with a fresh reward to earn.
Promotions – Additionally, Bet365 have stated that players taking part in selected promotions on the site can earn additional Bet365 Coins or Status Points from doing so. This includes specialist promotions only available to players that reach the higher levels of the new Loyalty Club scheme.
Earning your Rewards by cashing in your Bet365 Coins
At the end of the qualifying period, the Bet365 Coins you have earned combined with your final Loyalty Level will determine which of the rewards are available for you to select with your Bet365 Coin balance.
There are a total of seven different types of rewards available depending on your Loyalty Level and Coin Balance and these are outlined below:
Premium Steps Tickets (available for all 5 levels)
Sit & Go Tickets (available for all 5 levels)
Scheduled Tournament Tickets (available for all 5 levels)
Bonus Euros (available for all 5 levels)
Twister Poker Tickets (available for Silver, Gold, Platinum and Diamond Levels)
Cash Tickets (available for Silver, Gold, Platinum and Diamond Levels)
Real Cash Rewards (available for Platinum and Diamond Levels only)
The new Bet365 Loyalty Club offers a simple, easy way to reward your loyalty through playing in the full range of games across Bet365 Poker. Fully compatible with mobile devices, you can now ensure you receive the rewards most pertinent to your preferred games on Bet365 Poker and that is a big improvement over the old VIP Reward scheme.
Bet365 Poker: Banking options
Bet365 has 13 convenient ways to deposit funds onto their site, including popular methods such as PayPal, major credit cards, NetTeller, and Moneybookers, with generous limits up to $20,000 and low minimums of $1 on some deposit options. Don't forget to check your Bet365 account for offer codes before you make a deposit.
Offer codes are how you claim various bonus at not only poker, but also casino and sports. Don't confuse them with bonus codes that are used when you create your account. As a rule, you should always check your account (or ask support) for offer codes before making a deposit – no reason to leave money on the table.
Bet365 also has an impressive number of options for cashouts, allowing you many quick and easy options, with NetTeller taking well under an hour to transfer funds to your account. Visit Bet365 and you'll be able to review complete details regarding all banking options for your region.
Bet365 Poker: Ongoing promotions
No Deposit Bonus of €5 plus a First deposit bonus of 100% to €100 (no Bet365 bonus code or offer code required, bonus is automatic) plus €5 tournament token and the chance to earn more Starter Bonuses including Free Spins and Missions Bonuses when you sign up.
Twister Poker (Take on two other opponents in a Winner Takes All game of Twister Poker, where the stacks are small, the action fast and you have the chance to win between 2x and 1000x your buy in depending on the outcome of the Spinner at the start of the game)
Premium Steps (Play through up to nine steps against two other players each time and turn a small buy in into a 800 Euro top prize if you can complete the ninth step in this popular tournament promotion)
Bet365: Beyond poker
This review is for players looking to enjoy poker at Bet365. If you're interested in casino games or sports you should read this Bet365 bonus guide for details on those distinct bonuses.
Full disclosure: Like most poker sites, we are an affiliate of Bet365 and receive compensation for referring visitors to their site. We strive to only endorse sites we feel comfortable using as customers. Feel free to contact us with any questions about our relationship with Bet365.
View more deposit and no deposit bonuses here.
Bet365 Sports: What can you bet on?
A betting site may claim to be the very best in the world, but if it doesn't offer the sports that you want to bet on, then you'll never get to discover just how good a site is. Fortunately, at Bet365, there is a huge range of different sports and sporting themed bets you can place on the site.
Outlined below is a list of some of the sports that Bet365 offers extensive betting on. This can include a wide range of markets, extensive In Play betting available, excellent coverage of the sport at local, national and sometimes international level.
Finally, we'll also list some of the less well known sports as well as some non-sporting bets you can place with ease from your Bet365 Sport account.
Horseracing – Bet365 offers an extensive range of horse racing betting covering all the major meetings in UK and Ireland, plus other meetings from around the world in the United States, South Africa and France to name but three. In combination with a number of top horse racing promotions, such as the ITV Racing 4/1, Feature 4/1 offers, best Odds Guaranteed, plus live streaming of any UK or Ireland race you place a small bet on, Bet365 offers horseracing fans a first rate service alongside top quality promotions.
Greyhounds – Similar to their service for horseracing, fans of the dogs have plenty of great choice available at Bet365 with coverage of all the top greyhound meetings across the UK and betting readily available on all the top events. With a Best Odds Guarantee as well as specialist Greyhound offers available throughout the year, punters that enjoy a flutter on the dogs will find they are served very well by Bet365. Forecast and Tricast betting is available for both horseracing and greyhound betting on most races.
Football – Football fans are in for a treat at Bet365 as the site offers a massive range of bets from a huge range of leagues. All the top leagues are of course covered, but you can bet on a huge range of leagues at all levels of the game and there is extensive women's football and youth/u21 football also available. The sheer number of football markets available on a typical match is also extensive with all the usual bets available, plus a wide range of markets that are hard to find on other providers. Bet365 heavily promotes its football betting service both on its site and in the press and on TV and it is easy to see why. You can also enjoy several football-themed promotions on the site, including the great value Euro Soccer Bonus offer, right throughout the season.
Tennis – Bet365 offers an excellent service for betting fans including superb In Play betting on a huge range of tennis events, not just the top ATP and WTA Tour events. There's also excellent futures betting on Grand Slam events, as well as betting on all singles and doubles matches.
US Sports – It's not just the eastern side of the Atlantic Ocean that is served well by Bet365, American sports also get the five star treatment with superb coverage of all the top US-based sports including the NBA, NHL, NFL and MLB. There is growing coverage too of MLS Soccer and you can even bet on a number of College games too.
Golf – Bet365 offers extensive coverage of all the top golf tournaments on all the major tours and they also ramp up their coverage when a Major is in full progress too. This includes offering a number of specials in addition to their standard betting markets, which as always, are plentiful in number.
Cricket – England's summer sport is another popular betting option during the summer months when both the domestic and International Test and One Day Series takes place in the UK. There is also extensive betting available when England go on tour and when other top test teams are in action, or competitions such as the Indian Premier League, there is also a wide range of betting available on these events too.
Darts – Darts is growing rapidly in both popularity and as a betting sport. Bet365 offers a wide range of darts betting on all the top BDO and PDC Darts tournaments that take place throughout the calendar year.
Snooker – Although perhaps not as popular as it once was, Bet365 offer excellent In Play betting on snooker as well as a range of bets on the biggest snooker events of the year, such as the World Snooker Championship in Sheffield.
Rugby (League & Union) – Bet365 offers an excellent betting service on both Rugby codes, taking in games from all four corners of the globe including southern hemisphere matches, as well as games across Europe and in the United Kingdom and Ireland.
Motorsports – From Rallying to Formula 1, Bet365 offers a wide range of bets on all forms of motorsports including Superbikes, NASCAR, Indy Car as well as British Touring Car and other major motor sports events.
Other sports you can bet on at Bet365 Sport include the following:
Australian Rules Football
Boxing/UFC
Cycling
Gaelic Sports
Speedway
Volleyball
Winter Sports (Alpine Skiing, Biathlon, Cross Country Skiing)
Badminton
Handball
Netball
Sailing
Surfing
Table Tennis
Trotting
Water Polo
Triathlon
Hockey
In addition to all these additional sports, you can also bet on some less traditional or non-sports betting markets direct from the Bet365 Sports site including:
E-Sports (Including increasing coverage and betting on all the top esports tournaments)
Financials
Lotto Betting
Political Betting (US, UK & Europe)
TV Show/Music Betting
Virtual Sports (A choice of seven available, Horse Racing, Greyhounds, Motors, Soccer, Cycling, Tennis and Trotting)
As you can see Bet365 Sport offers a huge range of bets, with multiple markets available across a wide range of sports and with a vast choice of events for each sport, you will never be short of choice when it comes to betting on sports at Bet365.
Popular bet types at Bet365
What makes Bet365 Sport one of the best Internet-based sports betting sites is the sheer number of different bets available on the site. In addition to all the different types of bets that are specific to individual sports (such as Scorecast bets in Soccer, or First Touchdown bets in American Football), there are a number of very popular bets you can make across a wide range of sports.
Outlined below are 11 of the most popular bets you'll come across at Bet365 Sport, together with a brief description of each.
Win Bets – Arguably the most common form of bet placed on any sports betting site. This is simply a wager on your chosen selection to win their sporting event. That could be betting on a horse to win a race, a football team to win a match, or a tennis star to win a game, or even the whole tournament.
Each Way Bets – Each Way bets are popular bets in forms of racing, particularly horseracing where you back a horse to not only win the race, but finish in one of the paying positions (which can be 2nd, 2nd or 3rd or more rarely 2nd, 3rd and 4th). A each way bet costs two unit stakes as there are two individual bets to be covered, the bet to win and a bet on finishing in a paying place. As such, a £5 Each Way bet on a horse, for example, would cost £10 to place.
Accumulators (Parlays) – We are going to include Doubles and Trebles in with Accumulator bets (or Parlay's as they are known in the US). These are bets were a punter combines a number of selections into a single line bet and requires all the selections they backed to win, in order for their bet to win. However, if they do then the odds accumulate and the punter can receive back a lot more money than they initially bet. This is a very popular form of low risk/high reward gambling and on Bet365, accumulator (or acca as it is sometimes shortened to) betting is very popular on sports such as football, tennis and horseracing.
Full Cover Bets – Full Cover Bets are bets that cover all possible combinations (bar single selections) that can be made by a number of selections on a bet slip. Depending on the number of selections on the bet slip that can include all possible double, treble, four-fold and more bets. Each Full Cover Bet has its own name relating to the number of selections in each bet. These are: Three Selections – Trixie, Four Selections – Yankee, Five Selections – Canadian or Super Yankee, Six Selections – Heinz, Seven Selections – Super Heinz and Eight Selections – Goliath.
Full Cover With Singles Bets – In addition to the Full Cover Bets outlined above, you can cover all the same bets, plus each individual selection with a singles bet using the Full Cover With Singles betting options. Again, there are four of these bets available and each has its own name; Three Selections – Patent, Four Selections – Lucky 15, Five Selections – Lucky 31 and Six Selections – Lucky 63. Both Full Cover and Full Cover With Singles bets have an increasing number of individual bets with the increasing number of selections and thus the cost to place the bet increases. A £1 Lucky 63 bet for example, would cost £63 to place.
Forecast/Tricast Bets – For sports that involve racing, or competitors finishing in a specific order, it is possible to place Forecast and Tricast bets, where you select the two or three competitors (in many cases, it is a horse) and then state whether you think they will finish first or second (in the case of Forecast bets) or First, Second or Third (in the case of Tricast bets). If your bet is successful then you will be paid out at a much higher rate than simply backing one of the selections to win, or each way. You can also place this bet Each Way, which increases the flexibility of how your selections finish, but will increase the cost of the initial bet.
Banker Bets – Banker Bets allow punters to back a selection of the bets covered in the Full Cover Bets and Full Cover Bets with Singles, but in order for their bet to win, they must select at least one "Banker" selection which must win in order for the bet to be successful. Banker Bets offer great flexibility over betting as you can select which of the different types of selections to back, as well as vary the number of banker selections to increase or reduce the cost of the bet overall.
Handicap Bets – As the name suggests, these are bets where the sports book provider weighs the outcome of the match in favour of the weaker opponent, or against the stronger to try and provide two roughly equal betting options. For example, in football this may result in teams being handicapped by plus goals (for weaker teams) or minus goals (for stronger teams) in order to try and present two almost equal betting options. This form of betting is extremely popular both in the Far East and also the United States.
In Play Betting – Bet365 offers an extensive In Play betting service which allows you to place bets on a wide range of different sporting events as they are in progress. Some of these events you can even watch via a free Live Streaming service (provided your account is a credit balance). Bet365 offers a wide range of sporting events to bet on via In Play, including football, cricket, golf, tennis, American Football and many, many more.
Financials Betting – In addition to sports betting, Bet365 also offers the chance to place bets on how certain currency exchange rates and stock markets will perform over a stated time period. This is available in the Financials section on the site.
Antepost Betting – If you prefer to place bets well in advance of an event to get better prices than are available nearer the start of the event, Bet365 also offers an extensive Antepost betting service. This service covers a wide range of sports and a large number of sporting events within each sport, for example, you can bet on the outcome of the next Masters golf tournament just a few days after the previous event has finished.
Bet365 Group Ltd company profile
Company overview
Bet365 Group Limited is an online gambling company based in Stoke-on-Trent in the United Kingdom.
Its online product range currently comprises sports betting, casino, poker, games and bingo. At present its website is available in 18 different languages, with the company reporting that it is the world's largest sports betting site, with over 18 million customers. The company is one of the largest private employers in the Stoke-on-Trent area and currently employs over 3100 people.
With the birth of online sports betting, many traditional sports betting companies such as William Hill and Coral began offering customers the opportunity to wager on European football and horse racing online.
Bet365 decided to offer a far larger portfolio of sports and markets from the outset, offering customers the ability to bet on worldwide events 24 hours a day, 365 days of the year. At the forefront of online sports betting, it was reported in 2013 that Bet365 had grown to be larger than both rivals William Hill and Ladbrokes' online businesses combined.
Technology
Aside from their main desktop websites, Bet365 offer a dedicated mobile website for use on smartphones and tablets. It has also released an app for both iOS and Android phones.
Bet365 have been at the forefront of in-play betting since its conception and utilise the most up to date technology to ensure that both their live odds and customer's transactions are processed effectively and efficiently.
Sponsorship
Bet365 are high-profile sponsors of English Premier League football teams Stoke City FC and West Bromwich Albion FC. They are also actively involved in horse racing sponsorship – sponsoring not only individual races but also entire race meetings.
Operating locations
Until recently Bet365 were one of only a few online gambling companies choosing to operate the majority of its business from within the United Kingdom. Other betting companies such as William Hill and Ladbrokes operate their online arms from tax havens such as Gibraltar to avoid paying costly tax sums to the United Kingdom Government.
The Guardian newspaper reported in 2013 that Bet365 had paid over £30 million Corporation Tax for the previous year. In 2014, however, Bet365 announced its intention to relocate its remote gambling operations to Gibraltar whilst retaining their main company headquarters in Stoke-on-Trent.
Regulation and reputation
Bet365 are regulated and licensed in the United Kingdom by the Gambling Commission and in Gibraltar, are licensed by the Government of Gibraltar and regulated by the Gibraltar Gambling Commission.
Bet365 is also an IBAS registered company. IBAS is the Independent Betting Adjudication Service who act as impartial adjudicators on any disputes between sports betting companies and customers if internal procedures have failed to reach a satisfactory conclusion.
Bet365 timeline and milestones
| | |
| --- | --- |
| 2000 | The company is founded by Denise Coates in Stoke-on-Trent with just 12 employees. A £15 million loan from the Royal Bank of Scotland was secured against her father's small betting shop group to start the venture. Coates purchases the web domain bet365.com on eBay and website development begins from a hut in a car park. |
| 2001 | The first ever Bet365 website is launched. Available in English only, the site offers a wide range of sports betting markets from around the globe. |
| 2002 | The first Bet365 Casino download is released offering casino classics such as Blackjack and Roulette. |
| 2003 | Sports wagering stakes now total over £370 million. |
| 2004 | Games and Poker become available to Bet365 customers for the first time. |
| 2005 | The Bet365 website is translated into eight new languages, including German and Traditional Chinese. |
| 2006 | Poker becomes available to all supported languages and live streaming of sporting events becomes available for the first time on the Bet365 website. |
| 2007 | Another five new language websites including Greek and Polish, become available. Over 1,000 events are shown throughout the year via live streaming. |
| 2008 | Employees now total over 600 and Stoke City FC (who are owned by the company) are promoted to the English Premier League. Bingo at Bet365 is launched and Bet365 become the first UK company to broadcast live betting odds on television. |
| 2009 | A further three foreign language websites are launched - Czech, Hungarian and Slovakian. Employee numbers increase by over 50% to over 900 and financial betting is launched allowing customers to bet on a range of financial and currency markets. Bet365 enter the top 10 in The Sunday Times Top Track 100 - a league table of the top ranking private companies in the UK. |
| 2010 | Sports wagering stakes total £5.4 billion and Bet365 rises to number three in The Sunday Times Top Track 100. The Bet365 mobile site is launched in 17 different languages - developed entirely in-house, it is created to be accessible on any WAP-enabled phone worldwide. Live streamed events for the year now total over 10,000. |
| 2011 | Continued growth leads to the company now employing over 1,900 people at its Stoke-on-Trent headquarters. Live streamed events for the year now exceed 18,000 and a new mobile site is launched which is optimised for iPhone, Android and other smartphones as well as tablets. |
| 2012 | Sports wagering stakes exceed £12 billion. Licensed and regulated websites are launched in Denmark, Spain and Australia - with Hollywood star Samuel L Jackson used in promotional advertising in Australia. A Bet365 app becomes available for download on Apple devices. |
| 2013 | Global customer numbers now exceed 10 million with total group gross revenue reaching £1 billion. Bet365 now employ over 2,500 people worldwide and live stream over 50,000 events the year. Bet365 announce plans to construct a new purpose-built headquarters with capacity for over 2,800 employees in Stoke-on-Trent. |
| 2014 | Bet365 global customers have surpassed 14 million with total stakes exceeding £26 billion. |
Industry awards
Out with the listed achievements above, Bet365 has also received a number of industry specific awards.
Bet365 has been awarded the eGaming Review (EGR) In-Play Sports Operator of the Year from 2011-2014 and also the eGaming Review (EGR) Sports Betting Operator of the Year in 2011, 2013 and 2014.
EGR is the leading magazine and website for the online gambling industry and publish an annual top 50 of the leading online gambling industry operators.
Financial history
As a private company, Bet365 are not required to make financial statements public in the way that public limited companies are. From reports, it is known that group profits and revenue have increased year-on-year since the founding of the company, with a 226% rise in turnover for the five years up to 2014.
For the financial year 2013-14, Bet365 returned a pre-tax profit of £213.8 million, up 44 percent from £148 million the previous year.
Charitable endeavors
The Bet365 Foundation was set up in 2012 by Bet365 Joint CEO Denise Coates, who is a trustee of the foundation along with her father Peter and brother John.
In 2014, £105 million was pledged to help charitable needs both locally and internationally. Recipients of donations since its founding have ranged from Oxfam and charities involved in HIV/AIDS treatment in Africa to local cancer charities and community funds.
The size of the Bet365 Foundation makes it the largest charitable donation ever made by a gambling company.
Key executives
Denise Coates - Founder and Joint CEO
Having studied Econometrics at the University of Sheffield and then trained as an accountant, Denise Coates founded Bet365 in 2000 and has overseen the company grow into the largest online sports betting company in the world.

Notoriously shy, Coates rarely gives interviews despite being one of the most successful entrepreneurs of her generation - in 2014, Management Today named her number six in their list of the Top 100 UK Entrepreneurs.

Coates is the majority shareholder in Bet365, holding a 50.2% stake in the company, and she was listed in the 28th Forbes magazine rich list, in 2015, as having an estimated personal fortune of approximately $2.8 billion.

In 2012, in recognition of her services to business and the community, she was awarded an Order of the British Empire by Queen Elizabeth II in the annual honours announcement. These honours are highly respected and are awarded to recognise exceptional merit and achievement in a given field or area.
John Coates - Joint CEO
John Coates studied Law at Bristol University before pursuing a career in the legal profession.

In 2001, he joined Bet365 as joint CEO with his sister Denise. Like his sister, Coates is an intensively shy individual who rarely gives interviews.

Along with his father Peter Coates, he holds a 25% stake in Bet365. Forbes currently list Coates as having an estimated personal fortune of approximately $1.38 billion.
Peter Coates - Chairman
Father of both Denise and John Coates, Peter Coates, left school at the age of 14 before building up a successful catering business and founding a local radio station. With his continued business success, he purchased other companies, one of which was a small number of betting shops.

It was these shops that were used as security for the initial funding from the Royal Bank of Scotland to start the Bet365 website in 2000. In 2005, Coates sold the shops to Coral Bookmakers for £40 million and repaid the loan to Royal Bank of Scotland.

Although sometimes mistakenly reported as being the founder of Bet365, Peter Coates was not involved in setting up the business, leaving this to his daughter Denise, although he does retain a significant stake in the company.

Coates has also been actively involved in the English Premier League football club, Stoke City FC, since the 1980's when he was majority shareholder and club chairman. Having sold his shares in the club in the late 1990's, he then returned in 2006 to again become the majority shareholder and club chairman.

(Source: Birmingham Post)
Bet365: Social
Catch up with Bet365 on various social platforms or see what people are saying about the UK online gambling giant. Below are some of the latest highlights from Google+, Twitter and more:
@steviestallard use Bet365. App is probably the best, loads of markets and they usually often do good free bet offers.

— Tom (@tppru) August 29, 2016
Cheers @bet365 @Oddschanger pic.twitter.com/Dbds6GhTcb

— #John (@JohnSpurs11) August 23, 2016
1st €1 Spin win €267….After 3 spins I took €300 out 🙂 #Slots #Bet365 #Gambling… https://t.co/AFPKluVKL2

— JJ Malone (@JJ_Malone) August 23, 2016
Bet365 user testimonials
Here's what some of our users are saying about Bet365:
Matt P. in Ireland
Claimed the €5 free at Bet365 Poker to start, and eventually started punting away at sports. Great site, new mobile version is awesome.
2016-11-30T19:37:57+00:00
Claimed the €5 free at Bet365 Poker to start, and eventually started punting away at sports. Great site, new mobile version is awesome.
https://bonuscodepoker.com/testimonials/matt-p-ireland
Daragh D. in Ireland
Play in the big Sunday tournaments on Bet365 Poker every week now. Games are good.
2016-11-30T20:00:37+00:00
Play in the big Sunday tournaments on Bet365 Poker every week now. Games are good.
https://bonuscodepoker.com/testimonials/daragh-d-ireland